WANTED. THE WORLD'S MOST DANGEROUS VILLAINS was a short-lived reprint anthology from DC with a focus on super-villains. This was the final issue, and featured a reprint of the S&K Sandman story from WORLD'S FINEST #6 (1942).
The villain in this case is the Nightshade, a demonic looking green criminal who has used a variety of technological and biological terrors to take control of his "magic forest" where, for a price, he'll offer other criminals a place to hide until the heat dies down. Sandman and Sandy get involved when the parents of a boy whose party Sandy is attending go missing in the forest, and battle Nightshade's deadly plants.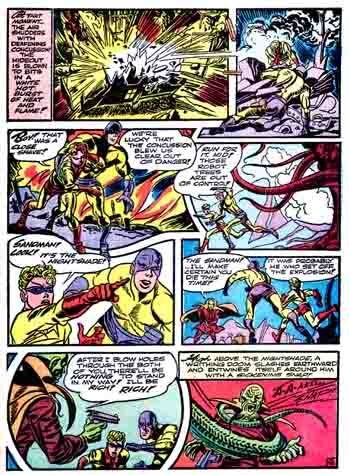 Fun story, but the bit that cracks me up is the last page, when Sandy and Wes Dodds return to the party, where birthday boy Toby says "Hi'ya
Sandy
! Did ya hear what happened? The Sandman and
Sandy
saved my mom and dad!". Yeah, you know Sandy, right Sandy? That crimefighter sidekick, about your height, curly blonde hair, kind of like yours...
Published 1973